18 August, 2023
Since the Czech lager, I have brewed two more lagers, a Vienna and now a Munich. The Vienna was based on a Vienna ale I made last summer, which turned out very well. So I will do that again. The Munich is still fermenting, so I'm keeping fingers crossed. Next month though, I am revisiting the Castle Ale I made in April (see below). The big challenge will be to be consistent, in other words, it must be the same as the first one. So the ingredients are the same:
Ingredients:
4 kg SAB pale malt
200 g CaraAmber malt
100 g Melanoidin malt
25 g SAB XJA/436 @ 60 minutes
25 g Amarillo hops @ 10 minutes
11 g German ale yeast
The point is, the ingredients are near enough as I surmise are used in SAB's commercial brand, Castle Lager. Hence the name. As it turned out, my "Castle Ale" tasted a great deal better than Castle Lager. The label I used on my bottles (see picture below), is the Castle Lager label of the 1950's. I just photoshopped it a bit. I know it is probably a copyright infringement, but I do need to remember what inspired this ale. So for now, it is a working title.
So why do this? It was never my intention to recreate Castle Lager; it is available out there in the bottle stores, so there's no point, is there? On the other hand, the ingredients are available in the market, and are in fact much cheaper than imported varieties of malt and hops. So I have been using some of these ingredients in previous beers to see how it works. It turns out the SAB pale malt is as good as anything else, but it is base malt so it does not add much flavour. So I added the CaraAmber and Melanoidin. One glaring omission is that I left out the Maize Extract used to brew Castle Lager.
The hops, SAB XJA/436, is experimental but has been on the market for some years now. THAT brings some the SAB flavour we know and expect, but in the Castle Ale it really comes to the fore and is quite awesome. The Amarillo adds a bit more dimension to the ale.
The point is, from the start my aim was to brew beers that are hard to get, like English Bitter, or have disappeared from the market, like Windhoek Special. Or something fairly unique like the Vienna Ale. And of course the iconic Lion Ale which was only available in Natal back then. I could never discover what went into making Lion Ale, but it did lead me to my own Castle Ale. Which, curiously, never existed, like the unicorn.
19 June, 2023
Something new on the horizon; a Czech dark Lager, also known as Tmave' Pivo.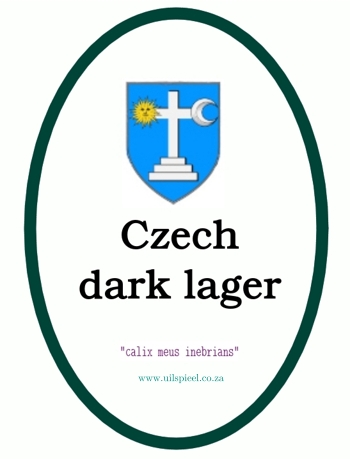 Ingredients:
3,5 kg Vienna malt
300 g Munich Dark malt
200 g Caramunich II malt
100 g Carafa II malt
25 g Saaz Hops @ 60 minutes
25 g Nugget Hops @ 20 minutes
11 g German ale yeast
4 May, 2023
I have been brewing, just not updating the site. So the latest was just throwing a few things together; I was thinking of using some local ingredients:
Ingredients:
4 kg SAB pale malt
200 g CaraAmber malt
100 g Melanoidin malt
25 g SAB XJA/436 @ 60 minutes
25 g Amarillo hops @ 10 minutes
11 g German ale yeast
Which turned out spectactularly. But what is it? It is related to SAB's Castle ale, only much better. So I dubbed it "Castle Ale", something which does not exist (until now).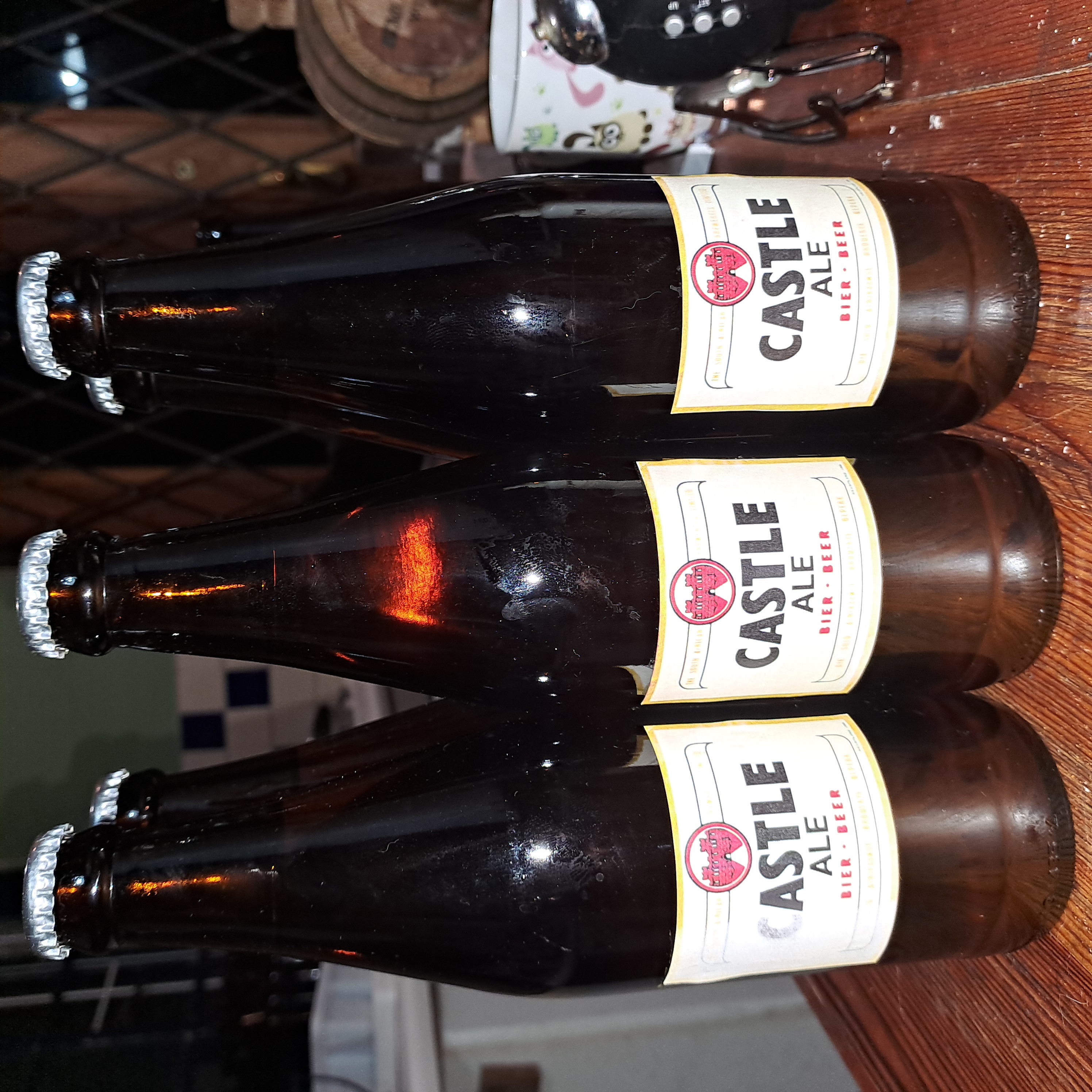 Dec 17, 2022:
Yes, the year has went. I think the most important thing I've done, brewing-wise, is create a Vienna Ale.
Ingredients:
5 kg Vienna malt
25 g Magnum hops @ 60 minutes
25 g Amarillo hops @ 10 minutes
11 g German ale yeast
20 liters of water
See, very simple. And then I tried another version of this using a different hops, as well as some American ale yeast. But although I am still letting it mature, I am not sure is was successful. I will report back!

© Uilspieel 2023